5 años de Reforma de Telecom: esto le falta a la iniciativa más exitosa de Peña Nieto
El Economista – Nicolás Lucas
La reforma sectorial que alcanza a las industrias de telecomunicaciones y radiodifusión cumple esta semana un lustro de que fue aprobada. Como algunos ejemplos, en cinco años ha conseguido disminuir en más de 40% los precios de los servicios móviles; atraer más de 7,000 millones de dólares en inversión extranjera directa y aumentar en 51 millones el número de mexicanos con Internet de banda ancha móvil, pero escasamente ha tocado con su cobertura a los 50 millones de mexicanos de menores recursos o aquellos que viven en zonas lejanas del país.
Esta es la reforma estructural de Enrique Peña Nieto con mayor éxito tangible y que ha calado en los monederos de los mexicanos, consideran especialistas; por ello, es objetivo del próximo gobierno continuar extendiendo sus beneficios y en su oportunidad, actualizarla a las condiciones del mercado y reforzar las atribuciones de las autoridades que participan de su desarrollo.
Un IFT fuerte, más medios públicos y cobertura social
En principio, plantea Agustín Ramírez, abogado especializado en telecomunicaciones y un día asesor de constituyentes en la materia, deberá ser prioridad del nuevo gobierno la conformación de una política pública que fomente el despliegue de infraestructura en regiones económicas menos favorecidas o el aprovechamiento al máximo de la ya existente allí o por llegar; la Red Compartida, por ejemplo. Llevar servicios como telefonía e Internet abonará al crecimiento y competitividad de esas zonas, dice.
Para lograr esta meta, una alternativa es una reforma que establezca que en adelante sea el Instituto Federal de Telecomunicaciones la autoridad, como órgano regulador especializado en telecomunicaciones, que cuente con las atribuciones para imponer políticas de cobertura social y no la Secretaría de Comunicaciones y Transportes, que todavía fue la dependencia que originalmente fijó los criterios de cobertura social para la subasta del espectro móvil en la banda de 2.5 GHz y que no gustó a la industria.
"Es necesario impulsar una reforma para que el IFT tenga mayor capacidad jurídica para acompasar el desarrollo de infraestructura con penetración en zonas rezagadas".
También queda cómo abordar las atribuciones de los municipios en lo que toca a las autorizaciones sobre uso del suelo y aunque ya hay planes de redefinir el Artículo 115 constitucional, su actual interpretación hace que las intenciones de la SCT y el IFT junto con las empresas por expandir las redes de comunicación choquen con los intereses de las alcaldías. "En términos del 115 constitucional, son exclusivas de este nivel de gobierno; habría que hacerlas consistentes con las atribuciones del IFT, de tal suerte que se eliminen barreras de entrada y de naturaleza jurídica, para el despliegue de infraestructura. Ahí hay mucho camino por delante", explica el especialista.
Para los medios públicos, aún falta homologar criterios para su operación y que la reforma no dejó del todo claro, además de que debería configurarse un sistema que aglutine a canales de radio y TV con alcance a todo el país.
En el sexenio que se acaba, hubo planes como la Agenda Digital dirigida por una oficina de la Presidencia de la República y el programa e-México que dieron magros resultados y sus desperfectos también deben corregirse pronto para meter a México en buen tiempo a la economía digital.
En cuanto al regulador, una buena señal del próximo poder Ejecutivo para el mercado sería aquella en que proponga a los senadores un método más eficiente y claro para la selección de comisionados, luego que, por ejemplo, el Senado se metió en un embrollo a mediados de 2017 en su intento por elegir o ratificar rápidamente al jefe del IFT. Agustín Ramírez también propone aquí que el comité de notables que construye la terna de candidatos entreviste y evalúe de manera personal a los interesados en ser comisionados, para que de esta manera pueda identificar posibles conflictos de interés.
Para el IFT igualmente es necesario un órgano fiscalizador, pues la Cámara de Diputados lleva un año de retraso en la designación de un contralor y ello puede provocar que "dentro de la institución se generen fácilmente irregularidades administrativas importantes".
¿Por qué AMLO atacaría la reforma telecom?
Andrés Manuel López Obrador es el candidato puntero en las intenciones de voto para ganar la elección presidencial del 1 de julio. Diversos actores industriales temen que su arribo a Los Pinos signifique echar abajo una o más de las reformas estructurales del sexenio peñista, en principio la energética y la educativa.
Pero en lo referente en telecomunicaciones hay dudas sobre lo que piensa hacer el político de Tabasco. El jefe de sus asesores en temas económicos, Abel Hibert, niega que López Obrador haya pensado siquiera en echar atrás esta reforma. "De ninguna manera y bajo ninguna circunstancia piensen que se va echar para atrás. Él no puede y no quiere tirar la reforma", dijo Hibert en una entrevista con este medio.
Abel Hibert platica que el aspirante presidencial trae consigo ya un plan para impulsar la banda ancha en las zonas desconectadas; también su propuesta sobre neutralidad de la red y el ecosistema digital. Y para los concesionarios de los medios electrónicos también tiene un mensaje:
"Vamos por un esquema más eficiente en aprovechamiento del espectro. Proponemos buscarlos a todos y revisar el sistema de cobro por el uso del espectro, pues nos parece muy alto el costo para el operador; las actualizaciones que hace la Secretaría de Hacienda son costosas, porque la concesión que compraste hace 20 años, la estás pagando hoy como si fuera el mismo mercado, cuando los precios están bajando y los equipos también y entonces el costo del espectro llega a ser una barrera, es algo que se debe modificar".
Hibert Sánchez cuenta además que el equipo del tabasqueño piensa en cómo construir un organismo que aglutine los recursos y las áreas "dispersas" en varias dependencias federales para crear entonces una unidad transversal que tenga un mejor impacto en el avance de la pública. De momento el Promtel está en el radar.
Agustín Ramírez, abogado en el despacho Ouraboros, desestima que sea una intención de este candidato atacar la reforma de telecomunicaciones. "Es la que más beneficios tangibles ha arrojado y sería un sinsentido que pretendiera ir en su contra; debe entender que la conectividad forma parte importante de los niveles de medición del desarrollo humano; es más, el llamado desarrollo informacional es, junto con el desarrollo cultural y el económico, uno de los tres índices que aseguran un pleno desarrollo humano".
Las telecos pugnan por 200.000 nuevas líneas de banda ancha
Cinco Días – Santiago Millán
Las grandes operadoras se han lanzado durante los últimos días a una carrera de ofertas y promociones comerciales en la banda ancha fija, con la fibra óptica hasta el hogar (FTTH) como estandarte principal, la televisión de pago y el fútbol para captar nuevos clientes. Unos negocios interrelacionados, que son claves para al crecimiento del sector de las telecos.
El final del verano y el principio del otoño es el momento de mayor comercialización de los servicios de banda ancha y la televisión de pago (muy unidos por la popularización de las ofertas convergentes fijo-móvil), dados dos factores claves como son el comienzo de la temporada de fútbol y la denominada "vuelta al cole", con el inicio del curso escolar. En los últimos cinco años, septiembre y octubre han sido los meses del año en los que el mercado de banda ancha fija ha registrado mayor incremento en el número de usuarios, con la consiguiente actividad comercial de las operadoras.
Así, por ejemplo, entre 2013 y 2017, el mercado de la banda ancha fija creció en España en el periodo entre septiembre y octubre en cerca de 200.000 líneas, según los datos de la Comisión Nacional de los Mercados y Competencia (CNMC): 203.000 conexiones en 2013, 202.000 en 2014, 176.000 en 2015, 189.000 en 2016 y 175.000 en 2017.
La suma de las líneas de banda ancha ganadas por el conjunto del mercado español en los meses de septiembre y octubre de los últimos cinco años suma cerca del millón de accesos.
En este escenario, Telefónica y Orange quieren sacar partido de su apuesta por el fútbol, tras adquirir los derechos de la Champions y de la liga española para los próximos años. Ambas compañías ya comercializan en sus tarifas convergentes fijo-móvil toda la oferta de partidos, encabezada por la Champions League y los 10 partidos por jornada de la liga española. De hecho, gran parte de sus campañas publicitarias se están centrando en que ofrecen todo el fútbol.
Una muestra de esta situación tuvo lugar la pasada semana, cuando tanto Telefónica como Orange decidieron abrir a todos sus clientes televisivos el nuevo canal Movistar Champions League con motivo de la final de la Supercopa de Europa entre Atlético de Madrid y Real Madrid.
Ofertas
En términos generales, Movistar está regalando su oferta premium de televisión hasta 2019 a quienes contraten Fusión con fútbol. A su vez, Orange ofrece a los clientes que contraten en agosto el paquete Orange TV Cine y Series, la opción de acceder a Orange TV Fútbol sin coste alguno, y contratar El Partidazo por tres euros al mes para toda la temporada. En este caso, la operadora ha incluido a los clientes de su filial Jazztel en estas propuestas comerciales.
De esta forma, quieren presionar a Vodafone, que decidió no adquirir los derechos de la Champions ni el denominado Partidazo de la jornada (con el Real Madrid o el Barcelona) al considerar que no será rentable. Vodafone ofrecerá esta temporada ocho partidos por jornada, procedentes todavía del anterior contrato, que incluía hasta la temporada 2018-2019.
En estas condiciones, estarían en juego cerca de 400.000 clientes de Vodafone, que tenían contratada la oferta total de fútbol la pasada.
Como respuesta, la compañía que dirige Antonio Coimbra anunció el pasado viernes que regalará su mayor oferta de televisión, Vodafone TV Total, durante un año a sus clientes convergentes, que al cierre de junio superaban los 2,6 millones. De esta forma, el usuario podrá contratar Vodafone One con cuatro GB de datos móviles, llamadas ilimitadas, fijo y fibra con 100 Mbps y un año gratis de TV Total, por un precio de 52 euros al mes. El bautizado como paquete fútbol, con los citados ocho partidos de la primera división, se puede contratar por cinco euros adicionales al mes
Dentro de sus movimientos, Vodafone anunció ayer el lanzamiento de Fibra Yuser, una nueva tarifa destinada al segmento de estudiantes que quieren tener internet en casa. Con la oferta, el cliente acceder a 120 MB de fibra simétrica y seis meses de HBO España de regalo por 34 euros al mes, con la opción de suspender el contrato en periodos de tres meses en el caso de las vacaciones estivales.
Esta batalla también ha tenido algunas disputas legales. Entre ellas destacan las dos denuncias interpuestas por Vodafone contra Telefónica ante la CNMC por sus ofertas televisivas.
En cualquier caso, la carrera comercial va a seguir en los próximos días, tanto en el ámbito de la banda ancha como en el de la televisión de pago, pasando por la telefonía móvil.
Evolución del mercado
El mercado de la banda ancha fija en España ganó cerca de 209.000 líneas en los cinco primeros meses del año, según los cálculos de la CNMC, hasta alcanzar un parque total de 14,56 millones de conexiones. La fibra óptica hasta el hogar (FTTH) ha consolidado su hegemonía. De esta forma, el FTTH sumaba al cierre de mayo más de 7,41 millones de líneas, casi un 51% del total del parque.
Con esta evolución, la presencia de esta tecnología es cada vez mayor en los hogares españoles. Al cierre de mayo, según el regulador, el ratio de penetración de la banda ancha fija en España era de 31,2 líneas por cada 100 habitantes, frente a las 30,1 líneas del mismo mes en 2017.
Amena prorroga su oferta de 20 GB de datos móviles
Amena, marca low cost del grupo Orange, ha decidido prorrogar su oferta de promoción de verano que fija en 19,95 euros la tarifa para los 20 GB contratados. De esta forma, tanto los actuales clientes de Amena como los nuevos que contraten esta tarifa de voz podrán acceder a la misma con el precio aplicado desde junio, que duplicaba la capacidad de navegación a ese precio. Aquellos clientes que contraten junto a esta tarifa el servicio de fibra podrán disfrutar esta capacidad hasta el 30 de septiembre.
MásMóvil duplica la velocidad de fibra de Pepephone
MásMóvil también se ha sumado a la carrera competidora en el segmento de banda ancha. La teleco ha decidido duplicar la velocidad de la fibra para los clientes de su filial Pepephone hasta 200 Mbps simétricos (subida y bajada).

Las series dan un vuelco al mercado de la televisión
El País – Sandro Pozzi
Un nuevo orden reina en la industria del entretenimiento. La televisión está mutando de un medio lineal a uno en el que el contenido llega bajo demanda. Es el usuario el que tiene el control y decide lo que ve. Ese nuevo orden quedó definitivamente consolidado el pasado 17 de septiembre, cuando El cuento de la criada ganó el Emmy a la mejor serie dramática en horario de máxima audiencia, el premio más prestigioso de la televisión estadounidense. Se convirtió así en la primera serie producida para Internet en hacerse con el máximo galardón. Era también una reivindicación para Hulu, una joint venture de los titanes de la televisión tradicional (Disney, Fox y Comcast) para hacerse un hueco en un mercado emergente controlado por empresas de Internet. La victoria de El cuento de la criada es una señal de que el viejo Hollywood no ha muerto y que va a usar todo su poder para hacerse un sitio en el nuevo mundo. Según un estudio de la consultora Juniper, el mercado de la televisión digital online facturó 64.000 millones de dólares en 2017; en 2022 esa cifra será casi del doble. La misma investigación estima que, para entonces, uno de cada cuatro hogares en todo el mundo estará suscrito a, al menos, un servicio digital.
Hay una sutil ironía en que este nuevo mundo de la televisión, lleno de animales feroces, empezase en un zoo: en el de San Diego (California), donde, en abril de 2005, Yakob Lapitsky grabó un vídeo en el que aparecía su compañero de instituto el alemán Jawed Karim. Esa misma tarde, Karim subió el vídeo a una página web que él mismo y otros dos socios, que habían trabajado en PayPal, acababan de crear: YouTube. En solo un año, la página tenía 20 millones de visitas al mes; en año y medio, Google compraba la empresa por 1.650 millones de dólares, en lo que se reveló una de las mejores transacciones de la historia del entonces buscador. Cuánto, realmente, es un misterio: Alphabet, la dueña de Google, no revela en qué medida YouTube es responsable de sus más de 100.000 millones de dólares de facturación. El impacto de YouTube va más allá de los ingresos publicitarios. Hasta entonces, el vídeo se descargaba primero y se veía en pantalla después, lo cual obligaba a buscar sistemas de encriptación y daba alas a la piratería. Al atar la transmisión al navegador, el streaming hacía rentable poner publicidad en una página web de vídeos. De ahí a hacer un servicio por suscripción solo había un paso.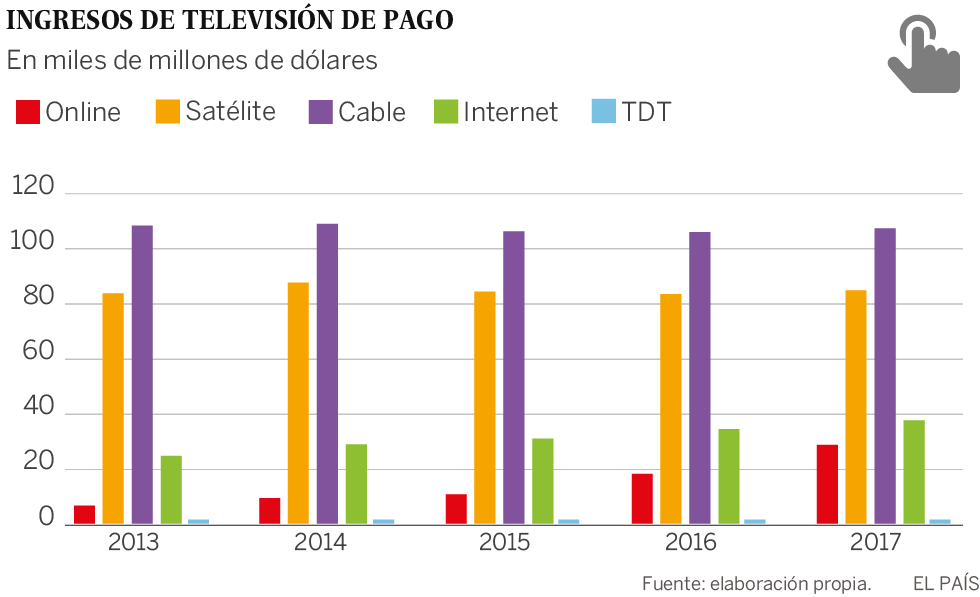 Un paso que dio Reed Hastings, que había revolucionado el sector de los videoclubs (llevándose por delante a Blockbuster, la líder del mercado) con su servicio de alquiler de DVD por mensajero. Entendió el éxito que empezaba a tener YouTube y quiso replicarlo. Netflix, la empresa de Hastings, estrenó el streaming de pago en 2007. Los abonados a su plataforma superaron en solo tres años a los que recibían las películas físicas.
El castillo de naipes
Lo que no se anticipó es el impacto que iba a tener la creación y distribución de contenido. El punto de inflexión se produjo hace siete años. Netflix, la compañía de Los Gatos (así se llama el lugar donde está su sede), se impuso a las cadenas de televisión por cable AMC y HBO en la puja por los derechos para rehacer una serie que había sido un éxito en 1990 en la británica BBC: House of Cards. Fue un acuerdo rompedor por su presupuesto (100 millones de dólares por las dos primeras temporadas) y porque era la evidencia de por dónde iba la ambición de la plataforma.
A la caza del talento
En la pugna por encontrar series y películas para comercializar, el reto no es solo hacer más; también es hacer mejor. Atraer a los nombres más conocidos de la industria es el objetivo de las plataformas digitales.
Hasta ahora, HBO reinaba prácticamente soberana con talentos como David Chase (guionista de Los Soprano) o David Simon (autor de The Wire). Pero por muy fuerte que sea la empresa, sus ejecutivos entienden que en la nueva realidad mediática necesita una mayor implicación de la audiencia.
Es ahí donde entran sus rivales. No solo no se preocupan por los índices de audiencia (aunque Netflix no tiene inconveniente en purgar las series que no prosperan de su catálogo), también tienen muchísima más información acerca de los deseos de sus espectadores —cortesía de sus algoritmos— y, sobre todo, chequeras muy pobladas. En 2017, Netflix firmó un contrato de exclusividad con Shonda Rhimes, creadora y guionista jefa de series de gran éxito como Anatomía de Grey o Scandal. Este año se hizo con los servicios de Ryan Murphy (Glee y American Horror History) por una cifra que, según algunos medios de EE UU, ronda los 300 millones de dólares. A su vez, Amazon ha firmado un acuerdo con Aaron Sorkin (El ala oeste de la Casa Blanca) para producirle una película sobre la vida de la actriz Lucille Ball.
"Es un gran momento para ser productor", apunta Ted Sarandos, director de contenidos de Netflix. "Los creadores con los que hablamos nos ven y quieren estar con nosotros".
Ahora Netflix hace más televisión que ninguna otra cadena en la historia; hasta su jefe de contenido, Ted Sarandos, admitía recientemente que es imposible seguir todos los títulos. Este año, la empresa espera invertir 8.000 millones de dólares para alimentar su videoteca, con 700 series. Sarandos no precisa cuánto dinero se utiliza para pagar licencias frente a los programas originales. El objetivo de la plataforma es contar con un millón de series y películas propias para finales de 2018. Y no solo se trata de cantidad. En julio, Netflix rompió con 18 años de hegemonía de la cadena de televisión por cable HBO al hacerse con 112 nominaciones a los Emmy, más que ninguna otra cadena o servicio online.
Netflix no está sola. Cuando la empresa de Reed Hastings empezó a funcionar, Amazon ya había entrado en el mercado del vídeo bajo demanda a través de un servicio de compra y descarga de películas y episodios de series. Solo fue en 2011, cuando ya estaba claro que el streaming era el formato vencedor, que la antigua librería online empezó a ofrecer un producto similar. La empresa de Jeff Bezos está respaldada por el río de oro que le proporciona su negocio de ventas por Internet: de hecho, la suscripción a su plataforma de vídeo está ligada desde el principio a su servicio Prime para clientes habituales. Y en 2014, empezó a competir más directamente aún con Netflix a través de Amazon Studios, con productos como la comedia Transparent y la adaptación de la novela distópica de Philip K. Dick El hombre en el castillo.
Todo esto ha hecho saltar la voz de alarma entre las viejas distribuidoras, porque la disrupción de estos servicios está provocando un verdadero éxodo de los canales de suscripción por fibra óptica o satélite hacia estas plataformas, lo que en Estados Unidos se ha dado en llamar "cortar el cable". En Reino Unido, por ejemplo, los usuarios de streaming ya han superado a los de televisión por fibra óptica. Emarketer proyecta que el proceso se acelere hasta los 55,1 millones de hogares en 2022.
"Muchos de los grandes proveedores tradicionales de televisión", indica el analista Christopher Bendtsen desde Emarketer, citando a Comcast, Dish y Charter, están tratando de integrarse de alguna manera con Netflix. Pero estas asociaciones, explica, están aún en una fase muy temprana y no tendrán un impacto suficiente para revertir la tendencia. "En el futuro podrán frenarla pero no pararla", augura. Actualmente se estiman en 186,7 millones los adultos que en EE UU ven televisión en su forma tradicional. Ha caído casi el 4% en un año.
El modelo de negocio de las nuevas plataformas va sumando escalones como una pirámide: el contenido atrae suscriptores, que proporcionan ingresos, que pagan por más contenido. Eso, a su vez, ha cambiado las reglas sobre cómo se financian las cadenas de televisión, vendiendo programas directamente al consumidor y utilizando los datos para dirigir la publicidad. Los mercados han comprado el modelo de negocio como si fuera pan caliente: Netflix, con 135 millones de suscriptores, tiene una capitalización de casi 150.000 millones de dólares, no muy lejos de los 185.000 de la venerable Walt Disney Company.
Para crear ese contenido, no obstante, las empresas están gastando montañas de dinero a la espera de beneficios futuros. Las cifras aturden. Cada episodio de la segunda temporada de El hombre en el castillo, de Amazon, cuesta 11 millones de dólares. Pero Amazon tiene detrás al resto del grupo. Netflix no. Goldman Sachs estima que la compañía de Hastings, que tiene un flujo de caja negativo y arrastra una deuda superior a los 6.000 millones de dólares, se va a gastar 13.000 millones en nuevas producciones este año.
El tiempo perdido
China, la puerta cerrada
Ni Netflix ni Amazon están en China, el mayor mercado del mundo. Allí, iQiyi (un nombre que utiliza los caracteres de "fantástico" y "arte"), fundada en 2011 por Baidu, uno de los gigantes de Internet en el país asiático, afirmaba tener 67,1 millones de suscriptores a 30 de junio de este año (solo por detrás de Netflix y Amazon, aunque en China las cifras son siempre dudosas) y facturar 932,5 millones de dólares durante el segundo trimestre de 2018. Una de las grandes apuestas de la empresa, la serie Cuadernos de saqueadores de tumbas, tuvo 100 millones de visitas durante las primeras 24 horas en las que estuvo en el aire, según iQiyi. Las restricciones del Gobierno de Pekín a la presencia de empresas extranjeras en su tremendamente controlado mercado online (por razones tanto políticas como económicas) hacen difícil que alguna empresa internacional entre en el país asiático; HBO, cuya página era accesible desde China, fue bloqueada en junio después de que el humorista John Oliver se mofase del líder Xi Jinping en su programa Last Week Tonight. Netflix, por su parte, ha acordado que iQiyi distribuya en el país asiático algunas de sus series más populares. Es por eso que el mercado estadounidense acogió con euforia la salida a Bolsa de iQiyi el pasado mes de marzo: de 18 dólares a la salida, la acción llegó a valer 46 en junio. Pero las dudas de los inversores sobre el tiempo que hace falta para que la empresa llegue a la rentabilidad (perdió 200 millones de dólares el segundo trimestre de 2018) y la competencia de otros titanes online chinos como Alibaba o Tencent (con carteras igualmente repletas) han hecho caer la valoración de la firma.
Son sumas que ni siquiera los gigantes de Hollywood pueden asumir solos. Pero una nueva oleada de fusiones y consolidaciones está dando al sector el músculo necesario para recuperar el tiempo perdido. Bob Iger, el consejero delegado de Disney, está siendo el más activo. Su empresa acaba de imponerse en la batalla por los activos de entretenimiento de 21st Century Fox, una operación de 71.300 millones de dólares. Con Fox, Disney controlará la mitad de la taquilla cinematográfica en EE UU; una ventaja competitiva con la que sus rivales todavía solo pueden soñar.
Pero los demás no se quedan atrás. CBS tantea a Viacom, en lo que puede ser un nuevo episodio en la saga de fusiones y separaciones que tienen ambas compañías desde 1971. Discovery y Scripps Networks se fusionaron el año pasado, mientras que el operador de telecomunicaciones Verizon se hizo primero con AOL y luego con Yahoo!. AMC Networks, que lanzó al mercado las celebradas The Walking Dead y Breaking Bad (y sus sucesivos spinoffs), también está expandiéndose, pero está lejos de contar con los medios de otros gigantes.
Pero la operación que ha empequeñecido a las demás es la compra de Time Warner por AT&T, el mayor operador de telecomunicaciones de EE UU, por 85.400 millones de dólares. Time Warner es la propietaria de HBO, que hasta ahora reinaba soberana en la televisión premium en Estados Unidos con programas como Juego de tronos, Boardwalk Empire o Los Soprano.
El primer choque de estos nuevos titanes será por el futuro de Hulu, que al contrario que sus rivales (más globalizados) solo está en los mercados estadounidense y japonés (en España, por ejemplo, El cuento de la criada está distribuido por HBO). Con la compra de 21th Century Fox, Disney tiene un 60% de la plataforma; Comcast y AT&T tienen el 40% restante. Disney ya ha anunciado que su jugoso catálogo dejará Netflix a partir de 2019; queda saber si los otros dos socios están dispuestos a adaptarse —léase, vender su parte o poner dinero— a las ambiciones de Bob Iger para evitar que la casa del Ratón Mickey lance su propia plataforma, como era originalmente su intención.
Google entra en juego
Y quedan los gigantes digitales. Hasta ahora Google (o, más bien, Alphabet, su matriz) ha preferido mantenerse relativamente alejada, dado que el actual modelo de negocio de YouTube y sus apabullantes 1.000 millones de usuarios únicos al mes le bastan y le sobran. Lanzada en 2016, YouTube Red apostaba por contenido exclusivo creado por su propio ecosistema de creadores (los llamados youtubers). Pero en febrero, Suzanne Daniels, directora de la división de contenido original de YouTube, reconoció en una entrevista a IndieWire que aunque no creía que su empresa podría competir con Netflix ("están demasiado adelantados", opinó), sí podría hacerlo con Hulu, Amazon "y, seguramente, Apple. Y esperamos hacerlo". Programas como Cobra Kai (una secuela de la popular saga de los ochenta Karate Kid) ya están en el mercado. Y este mes de junio, YouTube reformuló YouTube Red con el nombre de YouTube Premium.
La otra gran caja negra es Apple. El fabricante del iPhone y los ordenadores Mac está en proceso de diversificar sus ingresos para así reducir su dependencia en los dispositivos electrónicos. Para ello, entre otras iniciativas puestas en marcha por su consejero delegado, Tim Cook, está la de destinar una gran cantidad de efectivo a la parte creativa de sus servicios de streaming audiovisual. Pero no termina de concretar sus planes.
Ni Reed Hastings ni Jeff Bezos aspiran a ser unos clones gigantescos de la HBO o la NBC. Lo que deben demostrar aún es que esta nueva forma de consumo es rentable.
Netflix tenía algo más de 30 millones de usuarios cuando se estrenó House of Cards. Bill Nygren, estratega de Oakmark Fund, anticipa que la plataforma sumará 20 millones de abonados solo este año. "El ritmo con el que crece su base de usuarios le da una masa crítica con la que es muy difícil competir", afirma. Cada suscriptor, calcula, vale unos 1.000 dólares para la compañía en términos de capitalización. "Sigamos sumando contenido", insistía el director financiero de Netflix, David Wells, en el marco de una conferencia organizada por Morgan Stanley, "funciona y nos hace crecer". Las proyecciones que hacen en Wall Street es que Netflix llegue a los 200 millones de suscriptores en 2020.
Scott Devitt, analista de Stifel, eleva la valoración de Netflix fijándose en el volumen de programas que va a estrenar este año tanto dentro como fuera de EE UU. Proyecta que a este ritmo de generación de contenido será capaz de "duplicar" su base de usuarios en un plazo de entre 5 y 10 años. Deutsche Bank es cauto y anticipa una moderación de su crecimiento, porque la competencia es cada vez mayor.
Por otro lado, hay un factor que puede cambiar el mapa: el final de la neutralidad de la Red en Estados Unidos, que permite a los operadores de telefonía dar preferencia a los propios productos. Los primeros pasos ya se están dando: el contenido que produce HBO podrá verse en un teléfono que usa la red de AT&T sin pagar por los datos si el usuario está abonado a la plataforma ­DirectTV. Si la tendencia se consolida, el camino de los gigantes digitales puede ponerse muy pedregoso.
La industria europea sale ganando
El pasado 28 de abril, la policía argentina detenía en Morón, en los suburbios de Buenos Aires, a una banda de ladrones que utilizaba monos de color rojo y máscaras de Salvador Dalí para asaltar a la gente a la salida de los bancos. Ese disfraz estaba directamente inspirado en una serie, La casa de papel, producida por Netflix y rodada en España con actores españoles, cuyos protagonistas asaltan la Casa de la Moneda de Madrid vestidos con esos trajes. La anécdota habla de la popularidad que ha despertado la serie en América Latina, donde Netflix tiene, según estimaciones de varias firmas de análisis, más de cinco millones de suscriptores.
El éxito de una serie española en un mercado externo también señala una tendencia. A pesar de proceder, en su mayoría, de Estados Unidos, las plataformas de streaming no están confiando en exclusiva en el contenido estado­unidense para impulsar su número de suscriptores. Es más, en su ansia por llenar sus catálogos, están incentivando la creación de nuevos productos en los países europeos, dando un potente respaldo a una industria que, en 2016, creó más de 16.400 episodios de 920 títulos distintos, sumando más de 11.000 horas de televisión, según datos del Observatorio Audiovisual del Consejo de Europa.
"La historia está siendo diferente de lo que esperábamos hace cinco años", reconoce Grégoire Polad, director de la Asociación de Televisión Comercial en Europa (ACT, en sus siglas en inglés). "En lugar de colisión entre las plataformas de streaming y los modelos tradicionales estamos yendo hacia una coexistencia. En casi todos los mercados estamos viendo que, aunque el contenido internacional continúa siendo muy prominente, los consumidores europeos quieren ver sus propias producciones". "En nuestro caso, el asentamiento del consumo en streaming ha sido muy positivo", considera Paco Rodríguez Prieto, responsable editorial de cine de Movistar+. "El poder ofrecer tanto la experiencia clásica lineal como bajo demanda atrae a nuevos tipos de consumidores".
Amazon dio la campanada en julio de 2015 al anunciar que se había hecho con los servicios del presentador Jeremy Clarkson (despedido con cajas destempladas de la BBC por agredir a un productor) y de sus copresentadores del programa de coches Top Gear (la franquicia más rentable de la televisión pública británica) para hacer una nueva versión en exclusiva para su plataforma. HBO, parte del grupo Time Warner, ha apostado por el contenido del este de Europa, con series como la miniserie checa La zarza ardiente (dirigida por la polaca Agnieszka Holland) y la rumana Las sombras, la primera de las elaboradas por su filial europea que se ha emitido en Estados Unidos. Mientras, Netflix, que se estrenó en Europa con la francesa Marsella (con un casting cargado de estrellas como Gerard Depardieu), ha anunciado que construirá en Tres Cantos (Madrid) su primer centro de producción en el continente.
En Netflix, no obstante, alertan: "El contenido de Hollywood funciona muy bien fuera", explican en una carta a los accionistas. "El contenido local es minoritario. Nuestro objetivo no es replicar a los canales locales, sino complementar nuestro servicio con contenido local cuando sea apropiado". Al igual que en Estados Unidos, los operadores de telecomunicaciones también están entrando directamente en el mercado de producción. En España, Movistar+ (de Telefónica) ha apostado por series ambiciosas como El día de mañana o Arde Madrid.
En todo caso, los expertos ven en la expansión del contenido europeo la demostración de un cambio cultural. "Tenemos toda una generación de guionistas que se ha criado bajo un nuevo lenguaje audiovisual", considera Amalia Martínez de Velasco, vicepresidente de marcas de entretenimiento para Europa occidental y del sur, Oriente Próximo y África de Viacom International Media Networks. "Y lo que ha habido es una explosión del talento, gente que propone contenidos atractivos en el mundo entero".
No todo es perfecto. El ansia por contenido puede diluir la distribución, como explica Rodríguez Prieto. "Algunas plataformas están comprando derechos mundiales de las películas, lo cual es un arma de doble filo para la industria española. Por un lado, beneficia a la financiación, pero por otra parte dichas cintas quedan hundidas en los servicios de esas plataformas en el extranjero sin casi exposición. Sin promoción, con la oferta tan grande que hay, las películas no existen".
Por otro lado, algunas de las empresas tradicionales están preocupadas. "No nos sentimos en desventaja, es que de hecho lo estamos", apuntó Thomas Raab, consejero delegado de Bertelsmann (propiedad del Grupo RTL, uno de los mayores productores y gestores de canales de televisión de Europa), en una entrevista al Frankfurter Allgemeine Zeitung. "Si ves la regulación de los medios, de los mercados
publicitarios, de las leyes de competencia, s el campo de juego entre las empresas de medios y las plataformas tecnológicas no es equilibrado. Por ejemplo: YouTube y compañía pueden prácticamente decidir ellas solas cuánta publicidad pueden ofrecer. Para los canales de televisión, la regla está clara: seis minutos por cada media hora. Y lo mismo ocurre con los impuestos".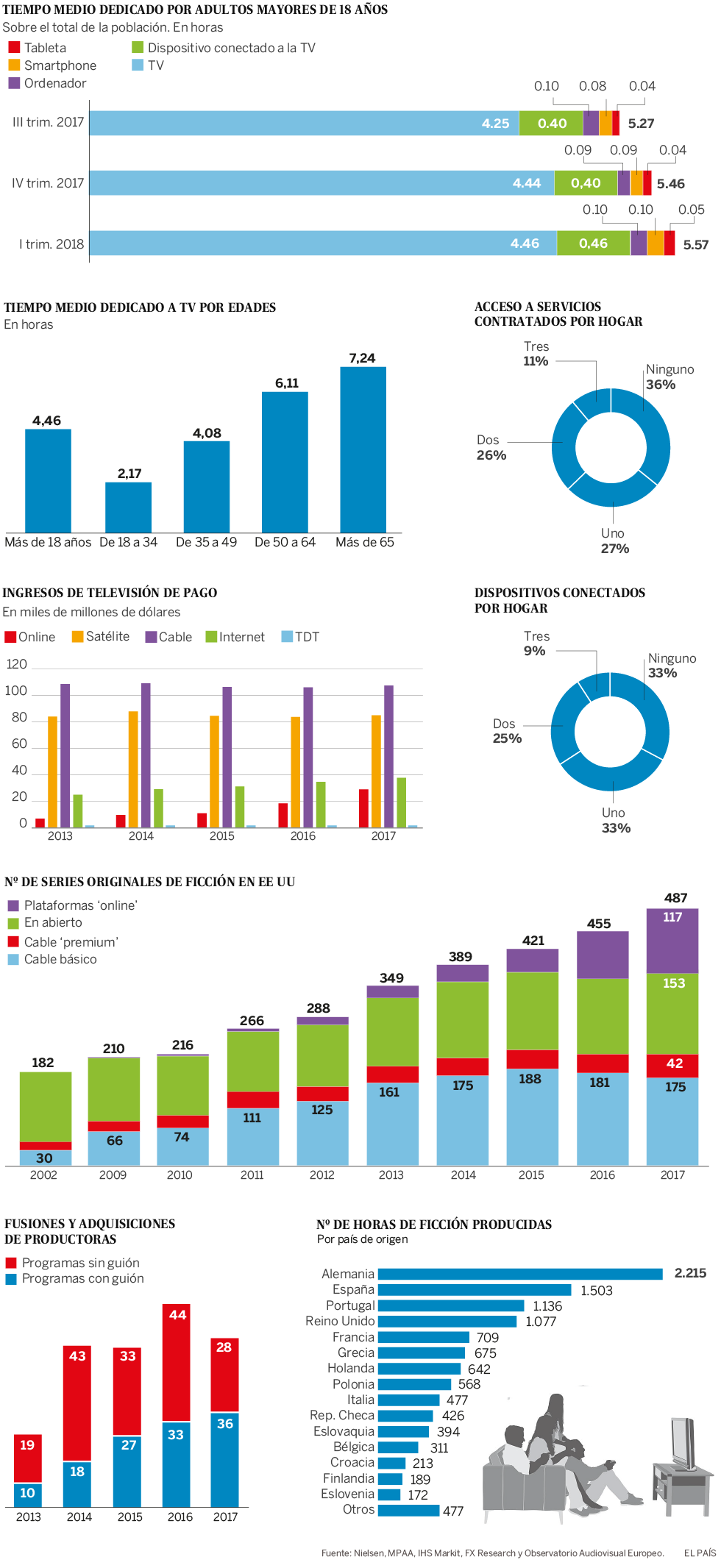 Vodafone lleva la batalla de precios al mercado de bajo coste
Expansión – Ignacio del Castillo
El reciente recrudecimiento de la competencia en el mercado español de las telecomunicaciones no frena. Vodafone, que la semana pasada decidió ofrecer gratuitamente su mejor paquete de televisión de pago a todos sus clientes convergentes de Vodafone One (unos 2,5 millones de hogares que tienen servicios combinados de fijo y móvil), ha trasladado también las hostilidades al mercado de bajo coste, lanzando una oferta muy agresiva a través de Lowi, su marca de low cost.
La oferta de Lowi establece un precio de 35 euros para su servicio combinado de fibra y móvil, en el que la fibra tiene una velocidad simétrica de 50 megabits y el móvil tiene llamadas ilimitadas de voz y un bono de datos de 20 gigabytes. Esta propuesta costaba hasta ahora 45 euros, por lo que supone una rebaja de 10 euros o del 22%.
La oferta, que baja drásticamente el suelo de las tarifas convergentes de bajo coste, solo puede contratarse de forma temporal, hasta el 15 de septiembre, aunque para el que la contrate en este periodo tendrá carácter indefinido.
Contra la llegada de O2
Para los observadores, la iniciativa de Vodafone a través de su marca de bajo coste se enmarca en la decisión de meter más presión a este segmento del mercado, especialmente en las primeras semanas de septiembre, a la vuelta del verano, que es cuando se va a poner en marcha el gran desembarco comercial de O2, la enseña de Telefónica, con la que el líder del mercado pretende establecer una posición sólida en este segmento.
El movimiento de Telefónica, para el que el grupo ha contratado a Pedro Serrahima, el artífice del éxito de la marca Pepephone, es la primera iniciativa seria del gigante del sector para plantar cara al grupo MásMóvil (que engloba también las marcas Pepephone y Yoigo), que ha copado la mayor parte del crecimiento del mercado fijo y móvil desde inicios de 2017.
La nueva marca de Telefónica fue lanzada en pruebas el pasado mes de junio. Y a pesar de que su lanzamiento fue complicado, al encontrarse con problemas logísticos para el envío de las SIM, su mero anuncio ha afectado significativamente a la cotización de MásMóvil, que ha pasado de los 119 euros por acción a losque cotizaba antes del anuncio de O2, a los 90 euros en que se sitúa ahora, una caída del 25% en dos meses.
Reacciones
Pero el movimiento de Vodafone a través de Lowi también ha tenido otros impactos. Así, tanto el grupo MásMóvil como el grupo Orange han mejorado sus ofertas.
MásMóvil ha cambiado la propuesta convergente de Pepephone, que ahora pasa a disponer de una velocidad simétrica de 200 megabits en vez de 100 megabits, manteniendo las características de la línea móvil (llamadas ilimitadas y 23 gigabytes de datos) por 49 euros. Por su parte, Amena, marca low cost del grupo Orange, ha decidido prorrogar su oferta de promoción de verano que fija en 19,95 euros la tarifa para los 20 gigabytes contratados.
20 euros por 20 gigas
De esta forma, parece que la tarifa de 20 euros por 20 gigas en el móvil, que también ha adoptado O2 para su oferta de sólo móvil, se está conviertiendo en el nuevo estándar del sector de bajo coste, cuando hace un año sólo la tenía Pepephone.